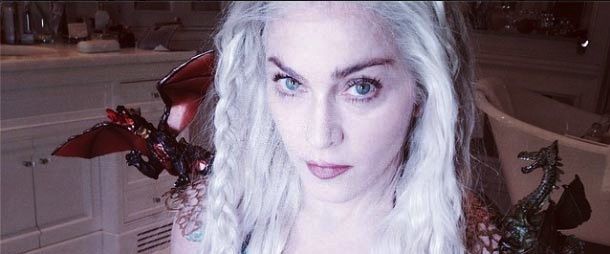 Queen of pop Madonna didn't just impress her fans when she dressed up as Daenerys Targaryen from Game of Thrones. The Material Girl got the seal of approval from the show's excited cast members – including the Mother of Dragons herself.


"Oh my goodness. It's insane. I thought I was asleep, I thought I was dreaming," Emilia Clarke - who plays her - told Access Hollywood at the New York Game of Thrones premiere when asked what she thought of seeing Madonna dressed as her character. "It's a huge moment," she added. "And, damn! She looks good."


Gwendoline Christie, who plays Brienne of Tarth in the fantasy drama, said: "I got really, really excited. Madonna's always been a favorite of mine. I love her strength and her transformative nature and the idea that she might be dressing up as a brilliant character in the TV show I'm in is pretty exciting."


Kristian Nairn, who plays Hodor, said he "totally freaked out". He added: "That's kind of a sign how big 'Game of Thrones' has got," he said. "The Queen of Pop is wearing a Daenerys costume."


Sophie Turner - aka Sansa Stark - was equally taken aback. "I'm like still getting over it," the 18-year-old actress said. "But that's amazing. I'm dying."
Source: Hello Magazine