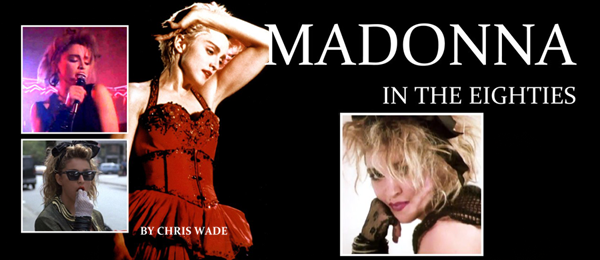 This book takes a look at the cultural and musical impact Madonna's music, films and persona had on the world in the 1980s. It was the decade she helped define with a series of classic albums (from her self titled debut, through Like A Virgin and True Blue to Like Prayer), the hit movie Desperately Seeking Susan, and her revolutionary music videos. She became the most famous woman in the world and a pop idol rivalled only by Michael Jackson. Nearly thirty years since that decade ended, Chris Wade delves into this special time in a series of essays on her work, gaining fresh insights into the phenomenon of early Madonna, as well as interviewing those who worked with her.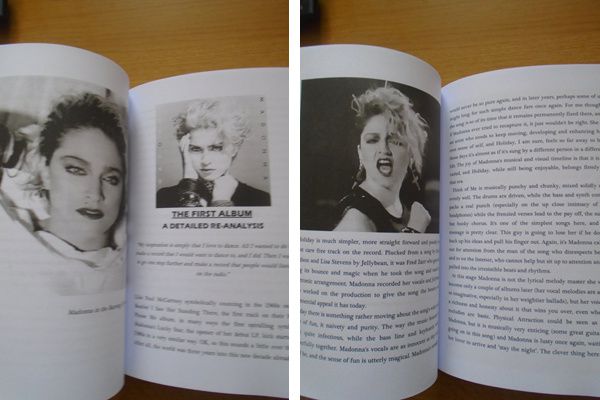 Chris Wade said :
I have just completed a book of essays/articles on Madonna's work in the 1980s, and I have to say it was so much fun re-delving back into that era. In the book, I explore her records, music videos, tours, influence and movies.I also got to speak and interact with people who had known and worked with her in these early years.Below is an extract from the book, an interview I did with Ed Steinberg, the man who directed Madonna's first music video, Everybody.
Sample below from the article,
"Part of the Dance: Sexual Politics and Madonna's Early Videos."
"Judging by her debut music video, the ultra low budget promo for her first single, Everybody, no one could have truly believed that Madonna would become the most important, popular, revolutionary and innovative music star of the MTV generation. The single, put out in 1982 ahead of her first album (which emerged the year after), was a dance floor hit in New York, but seeing as she wasn't (yet) a touring artist, a promo video was deemed necessary to send out in order to spread the word. If Madonna couldn't play to the people in the flesh, then her video would. "If I didn't have a video, I don't think all the kids in the Midwest would know about me," she later said. "It takes the place of touring. Everybody sees them everywhere. That really has a lot to do with the success of my album."

Ed Steinberg, who ran the Rock America Company, was given a thousand dollar budget to shoot the promo, a sum that seems unbelievable today, given the huge budgets of her later videos. The song, of course, is what really did the selling here; Everybody is a bouncy, bright and bubbly pop classic, with a sexy Madonna vocal and some uplifting synths, noises and beats. The video, with a distinct no frills approach, is actually very well shot. Featuring a host of her friends as extras (her friend Debi Mazar did the make up), Madonna sings and dances on a stage, in her vintage style, as the disco lights whirl and twirl, the silhouetted revellers let loose to the music. With her hair punked up and her constantly-moving body clad in one of the least showy outfits of her music video career, it's understandable why some would overlook this slightly underwhelming piece. Personally, though, I find its low-key feel refreshing, and I like the fact that the focus is on Madonna's charisma alone and, most importantly in my view, the song itself. For a new artist, such a video was to be expected. But if anything, the lack of visual distractions and artistic goals for the video being a stand alone film probably did Madonna a world of good. After all, she is the central focal point here, and all eyes are on her.
What is clear from this video though, and even at this extremely early stage in both her recording career and her career as a primal, important video artist, is that she commands the camera. She is using her sexuality with control, and though only 25 here, she seems like a woman set on a path she has laid out for herself, a journey to a destiny of her own making. You can also see the excitement, the determination to make heads turn, to grab the attention of everyone watching. She is a woman who had done so much already, slaved and worked away as a backing dancer, a drummer, a model... you name it, she had done it. And here it was, her first chance at the big time. How much the video did for Madonna's single becoming a hit cannot be fully defined, at least not as much as it can be for her future videos. Unfortunately, it seems to have drifted into obscurity (as much as anything Madonna related can); it wasn't put on to Madonna's double DVD video collection Celebration, nor did it feature on the landmark 60 minute video, The Immaculate Collection, which was released in 1990.
I spoke to Ed Steinberg all about the video. "I had been part of the 'crew' surrounding Madonna - Mark Kamims, Michael Rosenblatt etc.," Ed told me in 2017. "Seymour Stein (music entrepreneur) had asked me to shoot one of Madonna's shows at Howie's No Entendes performances at Danceteria. But I felt a simple music video would be more fun and useful. So I was allowed to use Paradise Garage for a day. Madonna was a 'featured' extra in a video I directed for a New York based funk group, Konk. My formal introduction was with Michael Rosenblatt inviting me to dinner with Madonna at a fancy seafood restaurant in Manhattan. But I had seen her around and was friendly with her for a while. She was always 'on the scene' like the rest of us. Intense clubbing and attending multiple band performances each night."
On the subject of the shoot itself, Ed told me it took "the better part of a (long) day. It was scheduled to start at 8 a.m. The crew set up at 8 but Madonna's choice of makeup person, Debbie Mazar, showed up about 90 minutes late. But it worked out OK as one of M's dancers was late and it turned out never showed up. The choreography was purely Madonna's. I just had to re-block it as one of the dancers never showed and we needed to compensate for the clubs' stage. It was an extremely low budget so we needed to make due with what we had. Baggs and Erik were easy to work with. Good dancers and knew Madonna's choreography. "
As for the video now, looking back on his early work, Ed said,"well, for a $1,000 budget it's good... very good. It gets Madonna's song across and shows her in a very good light. Would I have liked more money to do more? Naturally. I actually did spend $4,500 on the shoot. I actually paid all of the crew! For me, Everybody was the link between '70's Disco and '80's New Wave; or as we called it then, DOR - Dance Oriented Music. It was both pop and dance. Good and clearly successful combination of music styles culminating with a familiar song you could dance to and hum. Even as a novice singer/ performer, I realized she was something else. Despite needing to reblock the set and perform for one camera maybe 40 times or more she maintained her cool and was a pleasure to work with. Rumours persisted about Madonna's being very difficult to work with. But I never found that in this video or the many of her remix videos we later created for her many songs."